Hi dear friends,
It's been quite a long to have come up with a new recipe.
Perhaps, it's not only a comeback but 'coming up with a bang' with an awesome recipe!
However this recipe is contributed by my very dear friend
Mahesh
, which I have given some of my personal attributed tastes.
I'm simply a lover of sandwiches.
For they are not only very quick to make, yet I do consider them one of the healthiest food one can enjoy at any time of the day. Beautiful amalgamation of colourful fresh vegetables with hints of spicy sauces and tints of sweet touch of honey makes it my favourite sandwich to enjoy at happy hours!
It's, crunchy, sweet, spicy, juicy, healthy, fresh, bright in color...and just what not...titillating the taste buds!
Precisely, I loved this
combo of vegetables.
And often I make some extra stuffing which
I like to eat as a salad
. Well that is the beauty of this recipe!
Trust me, the words cannot depict the best of this recipe; you really have to try ones at home. I bet you will be a fan of this pink sandwich.
Ingredients: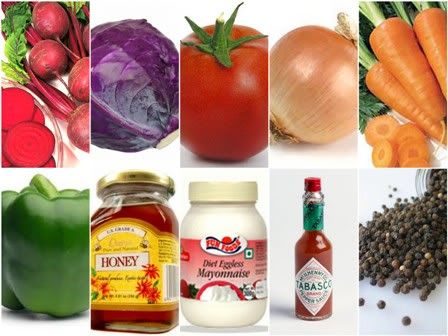 Brown bread – 4 slices
Shredded carrots beet root - ½ cup
Shredded cabbage (red) - ½ cup
Sliced tomato – 1 small
Sliced capsicum – ½
Sliced onions – 1 small
Light diet mayonnaise – 1tablespoon
Black pepper powder - 1/2 tsp
Chat masala (optional) - 1/2 tsp
Olive oil - 1/2 tsp
Salt for taste
Lemon juice (optional) - 1 tbsp
Tabasco - few drops
Tomato ketchup (optional) - 1 tbsp
Honey – 1tbsp
Making of Sandwich:
Take whole wheat bread slice.
Spread lightly low fat butter over the butter
Mix all the shredded vegetables in a bowl.
Add all condiments & sauces in the same bowl.
Add the vegetable stuffing on the bread.
Place the sandwich in griller or lightly heat it on the pan.
When done cut into half and serve with ketchup.
Note:
Prefer brown bread, diet mayonnaise, and low-fat butter!
Add as many colours of vegetable to make it much healthy.
Certain things are optional in the recipe yet each one if added has a completely different flavour.
And as always, I want you to note your taste buds desires and experiment with certain ingredients you prefer,
I have added red-cabbage, though you can add normal green cabbage as a substitute.
However, beetroot is just a must to add, to enjoy completely different flavour of the sandwich.
Chef Bio:
_Mahesh Shrisat:
We studies together
Hotel Management from IHM, Guwahati,Assam,
which have this year bagged 2nd.rank in academics amongst all IHMs Institutes in India.
(click
LINK
).
Going back to the lanes of old days, I recall so well, how good Mahesh was with some amazing in culinary skills supporting his style of cooking. When he came up with this recipe, I knew it sure it gonna be something easy yet with a sweet twist. And here it was the '
Beetroot
' which gave completely different flavor to this whole simple sandwich making it the best of all.
_
Today, he being in the hospitality industry serves the high regard hotel. He is a complete food- lover, enjoys Indian as well as Italian cuisine and have recently developed an interest in diet-food to prevail a passion for
healthy eating.
*
Making the best out of the left over or just any thing available at home reflects the spontaneity of his way of cooking. Hope, he
contributes
"Butter Punch" readers more with his new ideas and healthy diet recipes.
Thank you so much for the initiative!!