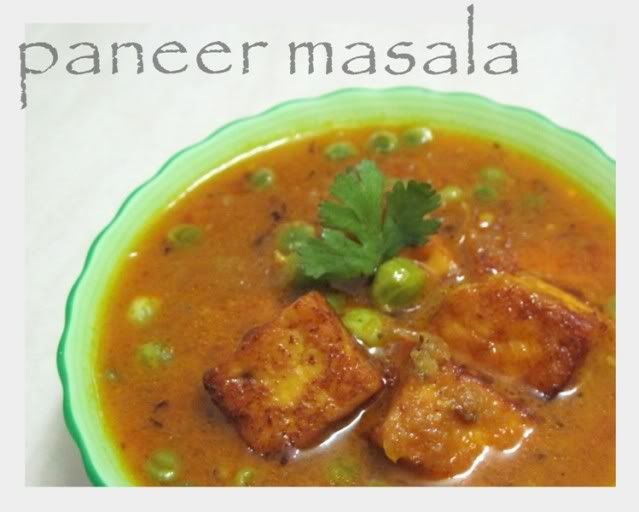 This is one of the first recipes on this good-food blog. Here, we shall prefer the recipes which are delicious and have minimum ingredients, perhaps which are easily available in the shops.
~ So all the good-food lover and passionate makers, roll on your sleeves, tie back your hair neatly, and move to kitchen for today to make, as here is the very quick, easy and healthy recipe for your desire of appetite.
Pax: 2-3 Nos.
Ingredients of Matar Paneer Masala: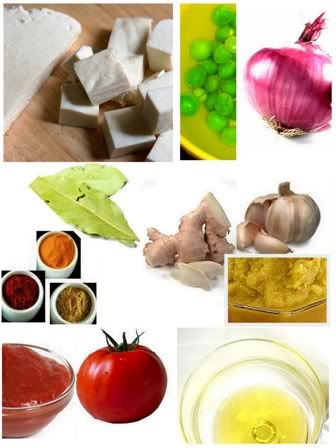 Mutter (green peas) - 250gms
Paneer (cottage cheese) (8-10 pieces) - 300gms
Medium Onions (paste) -2 Nos.
Cloves garlic (crushed) - 6 Nos.
Grated ginger - 1 tbsp
Tomatoes (2medium size) (paste) - 150gms
Salt - to Taste
Sugar (optional) - 1 tsp
Turmeric powder- ½ tsp
Coriander powder - 2 tbsp
Red chilli powder (to taste) - 1 tbsp
Jeera (cumin seeds)- 1/2 tbsp-
Bay Leaf- 1
Vegetable oil (2table spoon) -1/2 cup
Making of Matar Paneer Masala:
Take a pan and heat the oil in it.
Now add Paneer cubes into it, let the heat be medium.
Toss them until golden brown.
Take the golden paneer cubes and place/soak them in the bowl full of water.
Now in the same pan with the left over oil, add the cumin seed and bay leaf.
Let it crackle a bit then add the paste of red ripe tomatoes.
Keep the high heat and let it cook for 2-4 minutes. Keep stirring.
Now add ginger-garlic paste and cook again for next 5-7 minutes.
Cook until it starts to leave oil from the sides.
Now add the paste of onion. Mix it well and cook for next 10-12 minutes.
Then add the dry spices with half cup of water to avoid burning of spices.
Saute the spices all together until all the water evaporates and oil gets separates.
Then add salt and a pinch of sugar with the 1-2 cups of water.
Also add green peas. Let it simmer a bit.
Then add the fried golden paneer cubes and let it simmer again next for 10-15 minutes.
Garnish with fresh green coriander leaves or cream or a nice dollop of butter on top.
Serve hot with rice or bread/chapati.
NOTE
:
Soaking the golden brown fried paneer(cottage cheese) in the water helps to retain the soft texture.
Add onion first or tomato first…it depends on your choice of cooking, though for this recipe I prefer to add tomato first, it retains the gravy in red color.
Indian cuisine is all about experimenting in flavors and spices. Some like to add additional spices, like black pepper, cinnamon stick or garam masala. Though I have only added Bay leaf into it and was removed as soon as the tomatoes were added.
A pinch of Sugar always enhances and enrich the flavour.
I hope this recipe excites you...so do try at home and let us know your experience.
Also let us you what would you like us to make or any particular recipe! ~ Bon Appetit