So
before
the summer ends
completely and
monsoon arrives
, I want to
capture the flavor of the fruit
mango
into my recipe and relish it for latter season.
Call it pickle or chutney, or chunda, murabba or just any name.
~
This is a
sweet-sour-tangy
recipe of the
raw mangoes
made in lowest amount of time and energy involved.
Traditionally my grandmother used to make with lots of pain by keeping the jar of raw mangoes and sugar out in sun for numerous days and kept stirring it every day till the sugar melts and mixes well with the raw mangoes turning into glossy look.
~
But here I've come up with a
quickest delicious
homemade
mango recipe
. Make today and relish it for next one month by storing it up in the freeze. Almost like any jam or marmalade.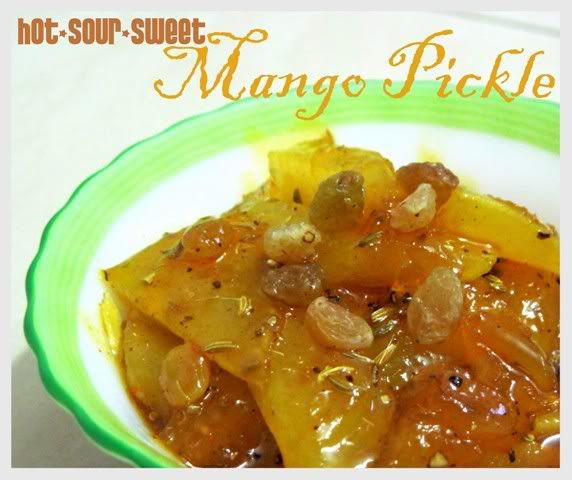 The
ingredients
used are
easily available
at home. This is an absolutely delicious dish could be enjoyed as a great accompaniment with almost anything. Relish directly with Roti,
Parathas
(pan fried Indian flatbread),
Thepla
(fenugreek flatbread), in
sandwiches
...
~
Utterly, no age-bar to enjoy this
sweet-sour-tangy
dish!
Ingredients
for
sweet-sour chutney of Mango:
Raw, sour mangoes – 2 Nos
Black-pepper – 10-12 pods
Cinnamon stick – ½ inch
Sugar – 1 cup (100grms)
Fennel seeds (saunf) – 1tsp
Salt – 1tsp
Turmeric power- ½ tsp
Red chili powder- 1 tsp
Oil (refined) - 2 tablespoon
Raisins (Dry grapes) for garnish (optional)
Method of making
Mango Chutney: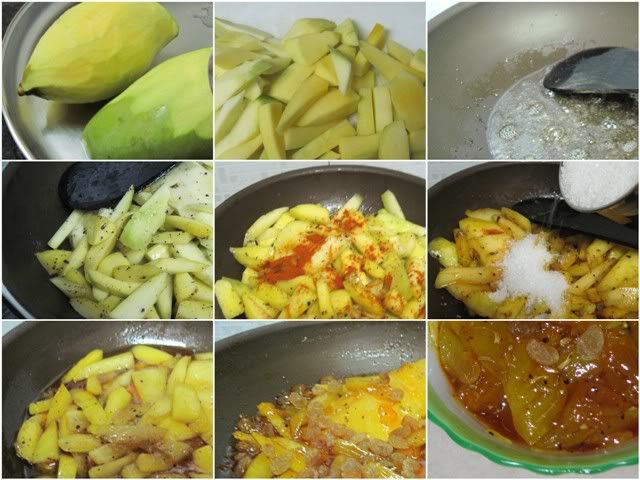 Peel the raw mango and cut into 1" cubes.
Put a griddle or flat pan on medium heat.
Heat oil, and latter the crushed black pepper and cinnamon stick keep stirring often until little fragrant.
Now add the raw sour cubes of the mango in the same pan. Mix it well and leave it for new 5 minutes on medium heat.
Then add the turmeric and chili powder with the salt. Cook again for two minutes.
Now you will see the mangoes turning soft and bit glossy.
Then add the bowl of sugar into it. Mix well and keep stirring so that the sugar is dissolved and turns into syrup. Just in case after adding the sugar it is still dry, add few spoons of water into it.
Stir often till the sugar turns syrupy. Allow them to cook for next 10-15 minutes.
In the mean while add the raisins/dry grapes into it.
When almost all the water is evaporated and the mangos are soft, golden, transparent and cooked. Remove the pan from the fire.
Add additional raisin for garnish(optional).
Then at last but not least sprinkle the roughly crushed fennel-seeds to enhance the aroma of the dish.
Allow to cool and then put into a sterilized jar. Store for up to one month and eat with almost anything…bread, roti, paratha or just like that anytime!
Note:
It is always best to used non-stick pans for the recipes which involved cooking of sugar.
Keep stirring it so that the sugar does not stick at the corners of the pan.
Keeping size as cubes of the mango, helps in retaining the shape of the piece.
Some like to shred/grate the mangoes…but I like to keep the cubes to feel the crunch while eating it. Grated mangoes might turn messy while continuous stirring.
The spices are only to enhance an aroma with a tiny tint of flavor. The spices should not be used in such a way that empowers the flavor of the sour-sweet-tangy mangoes.
Some like to add cumin seed instead of fennel seed. Though I prefer my choice of ingredients, rest is your wish. Play/experiment with spices is all we ask you when we make recipes.
Store it in a sterilized jar in the freeze for almost a month…You cannot store it longer..as it is going to be so delicious and will get over no sooner you make it.